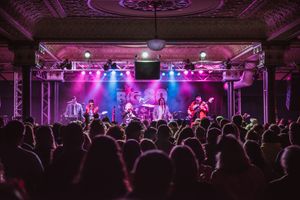 Roads? Where you're going, you won't need roads... 
But you will need
room to dance...
We had such a blast opening for 80's icon Tiffany at the Murat! Let us bring an 80s party to your event! Or come hang with us at one of our upcoming shows!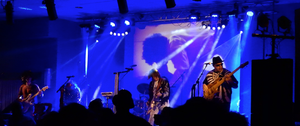 The Big 80's Tribute Band has 20 years under its fanny pack taking party-goers on a venture back in time! Big hair, big lights, big sound, light-up dance floors surrounded by the sometimes cheesy, always awesome music of the crazy 80's!
And when we say "tribute", we mean it. This isn't a random group of musicians that just PLAY Michael Jackson and Madonna and try to pass off as an 80's band. No my friend...
This is a tight-knit "Member's Only" crew of friends who, for better or for worse, are dedicated to keeping 1985 alive!
We'll bring the totally rad costumes, chair-sized Rubik's cubes, epic stage props and MTV choreography. All you need to do? Grab your parachute pants, Aquanet, raspberry berets, and your bandanas and we'll meet you on Electric Avenue.
We've summoned the 80's mojo of all your favorite artists on our SONG LIST, including Prince, Def Leppard, Bon Jovi, Madonna, Cyndi Lauper, Eurythmics, Journey, Rick Springfield, ACDC, Heart, Devo, The Bangles, and more.
Shows
You should totally check out our upcoming gigs! Along with the top-notch Big 80's gigs, you can also join our fearless leader Gina rocking out as Millennium Karaoke throughout the week, our awesome 90's spinoff, XGeneration, and party band Karma! Plan your weekends on our calendar!